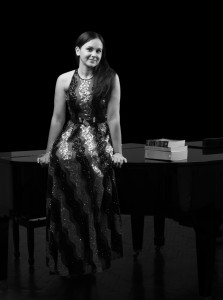 Charlene Farrugia was recognized at an early age as a particularly gifted child, and was referred to as the "enfant terrible of Maltese piano" and "Princess of Maltese piano" by music critics. In 2018, she received Malta's International Achievement Award, and was made an Associate of the Royal Academy of Music in 2020. She is one of the ambassadors of the Euro Mediterranean Music Academy (EMMA for Peace) under the patronage of UNESCO and Honorary President Riccardo Muti.
Charlene made her concerto debut with the Malta Philharmonic Orchestra at the age of 13, playing Mendelssohn's Piano Concerto No. 1, the orchestra's youngest ever soloist. Since then, she has been a regular performer on the Maltese cultural scene.
Charlene has performed as soloist with several orchestras, such as the Karlovy Vary Symphony Orchestra, Lisbon Metropolitan Orchestra, European Union Chamber Orchestra, Blackheath Halls Orchestra (London), South Czech Philharmonic, Rotterdam Ensemble (Netherlands), WinterGreen Orchestra (Virginia, USA), Kaliningrad Philharmonic Orchestra and Altai State Symphony Orchestra (Russia), Arad State Philharmonic Orchestra (Romania), Camerata Austriaca (Austria), Oregon Festival Orchestra and Orpheus Academy Orchestra (Oregon, USA), Gnessin's Academy of Music Orchestra (Russia), Croatian Chamber Orchestra (Croatia), and other eminent ensembles and orchestras.
She has toured widely, engagements taking her throughout Europe to North America and the Far East, appearing in venues from the Teatru Manoel, Valletta, Théâtre Princesse Grace, Monaco and Château Sainte-Anne, Brussels to the Smetana Hall, Prague and the Shanghai Oriental Art Center.
For Naxos she has recorded Charles Camilleri's Piano Concerto No. 1, featured on the album 'Mediterranean' and which has been aired on BBC Radio 3, RAI 3 and ORF RADIO, to name just a few. In addition, she has also recorded the Piano Concerto and Tango Concerto by contemporary composer Beth Mehocic, released by Navona Records in 2019 and 2021 respectively. Charlene has also recorded two albums for Sony Classical Records (Korea), one with trombonist Cheolwoong Lee and the other with flutist Youngjin Kwon. In 2020, Charlene recorded her first solo album of works by Aram Khachaturian which was released by Grand Piano Records in March 2021, to critical acclaim. Her newest album entitled "In the midst of things", which features piano and chamber music works by contemporary composer Karl Fiorini, was released by Grand Piano records in November of 2021.
Charlene Farrugia studied with Dolores Amodio in her native country, and with Diana Ketler at the Royal Academy of Music in London. For several years she was mentored by Boris Petrushansky. She gained her doctorate in performance under Kenneth Hamilton with a thesis on piano repertory for the left hand. She is currently on the teaching faculty at the Music Academy, Juraj Dobrila University of Pula, Croatia.